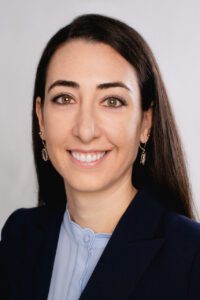 Dr. Alexandra Forest DDS, MD is a Board Certified Oral and Maxillofacial Surgeon who was born in Santa Barbara, California and she spent 3 gap years interrupting her college studies to compete as a nationally ranked elite triathlete. Her undergraduate studies in biochemistry were completed at California State University at Northridge. She attended the University of Michigan Dental School where she became a die-hard Wolverines fan.
She received her Oral and Maxillofacial training from the highly regarded University of Maryland Department of OMFS, where she simultaneously obtained a medical degree from the University of Maryland Medical School. OMFS training involves a 6-year oral and maxillofacial surgery residency at both the University of Maryland Medical Center and R. Adams Cowley Shock Trauma Center. Her residency included extensive training in trauma, head and neck cancer, pathology, orthognathic surgery, TMJ, dentoalveolar, and dental implant surgery.
She served as her dental school's class president and has published several peer-reviewed articles and authored a book chapter. She won her dental school's top research presentation award for her work on bone-metastatic cancers and went on to place third at the American Dental Association Student Clinician national competition. She was awarded the New Investigator Award at the University of Michigan Head and Neck Cancer Stem Cell Symposium, the Pierre Fauchard Academy leadership award, and the American Association of Oral and Maxillofacial Surgery Dental Student Award.