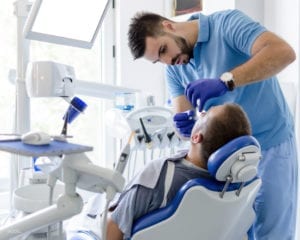 If you're a Havre de Grace resident who needs a tooth extracted, you probably want your tooth replaced as soon as possible. After all, a missing tooth not only impacts the aesthetic appearance of your smile, but your functional abilities to bite and chew. Missing a tooth can also be embarrassing and frustrating. But, how long do you have to wait to get dental implants – known as the best tooth replacement option available?
Waiting for Your Mouth to Heal.
A tooth extraction is major oral surgery. If you are planning to get a dental implants after a tooth extraction, you will typically need to wait a minimum of 10 weeks after the tooth extraction before dental implants can be placed. This waiting period allows the mouth to heal after the tooth extraction surgery.
Granted, there are always exceptions. In some cases, Havre de Grace patients can have a dental implant placed at the same time their tooth is extracted. Whether or not you will need to wait for your mouth to heal, or can have dental implants immediately placed depends on a variety of factors including your health status, tooth position, and the existence of infection.
It's impossible for you to determine on your own whether or not you will be a candidate for immediate dental implants, or if you will need to wait the standard 10 weeks for dental implant surgery. Only a full examination and evaluation by asurgical specialist, such as the oral surgeons at The Maryland Center for Oral Surgery and Dental Implants can confirm which treatment option is best for you and your unique case.
Are Dental Implants Worth the Wait?
Often when Havre de Grace patients find out that they'll have to wait a month to get dental implants placed after an extraction, they begin to wonder, "Are dental implants really worth the wait?" At The Maryland Center for Oral Surgery and Dental Implants, the oral surgeons, who are experts in implant surgery, believe that dental implants are the best tooth replacement option for patients for several reasons, including:
Dental implants are designed to last a lifetime, and unlike bridges or dentures, they are not intended to be replaced over time;
Dental implants have over a 95% success rate, meaning that the vast majority of people who receive dental implants will have the implants successfully bond with their jawbone;
Dental implants mimic a natural tooth root, stimulating your jawbone and jawbone growth;
Dental implants protect against bone resorption, or the shrinking of the jawbone, which occurs if you are missing a tooth;
Dental implants provide the foundation for a natural looking crown, providing you with a beautiful smile; and
You can eat anything you want when you have dental implants, without the risk of the implant moving, sliding or breaking.
Learning More About Dental Implants
If you're a Havre de Grace resident who has been told that you need to have a tooth extracted, or you have a tooth that you suspect needs to be removed, the best thing you can do is visit the oral surgeons at The Maryland Center for Oral Surgery and Dental Implants. During your comprehensive evaluation, your oral surgeon will be able to tell you whether or not you do indeed need a tooth extraction, how soon you can get a dental implant placed, and provide you with all the details of your personalized treatment plan.
To schedule an appointment with the oral surgeons at The Maryland Center for Oral Surgery and Dental Implants in the Havre de Grace area, call us today at 410-838-7301.