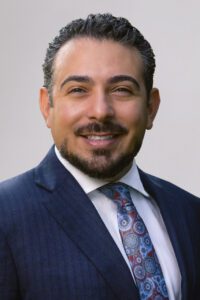 A native of Maryland, Dr. Zoulis is pleased to have joined the Maryland Center for Oral Surgery and Dental implants. He brings extensive training, education and experience in all aspects of oral and maxillofacial surgery to the practice.
Following graduation from Loyola University, Dr. Zoulis completed his Masters in bio-medical sciences at Philadelphia College of Osteopathic Medicine. He then obtained his DDS from Howard University College of Dentistry in Washington, D.C., where he was the recipient of academic awards and scholarships. Dr. Zoulis completed his post-graduate hospital-based residency in oral and maxillofacial surgery at Boston University Medical Center.
In addition, Dr. Zoulis completed a number of externships in oral and maxillofacial surgery at various medical centers, including MedStar Washington Hospital Center, University of Maryland Trauma Center, New York University Bellevue Hospital, and the Los Angeles County-University of Southern California Medical Center. He has also completed internships in dentistry and dental laboratory technology. , and volunteered at the free clinic of Central Virginia with colleagues from Virginia Commonwealth University.
Dr. Zoulis has also participated in several charitable events, including the SNDA Oral Cancer Walk in Washington, D.C., and providing free oral exams and hygiene products to the less fortunate through churches and other organizations.
When he is not caring for patients, Dr. Zoulis enjoys spending time with his family, playing the piano, tuning his cars, fishing and playing sports.