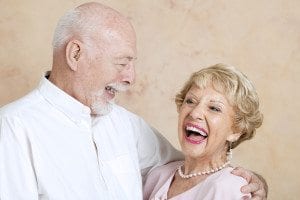 Anyone who is missing one or more teeth should consider dental implants. The Maryland Center can use different approaches depending on how many teeth you need to restore, but each relies on dental implant technology because of the advantages that it offers over other treatment methods.
Comparing Dental Implants for Tooth Replacement
Consider these advantages over older methods of restoration…
Get the full function of your original teeth. With dental implants, your Maryland Center Board Certified surgeon in Baltimore provides new tooth roots that anchor new crowns. These replacement teeth have the strength and stability of your own teeth. Other solutions, such as bridges and partial dentures, can limit what and how you can eat.
Preserve bone. These new tooth roots prevent the natural resorption of bone in the area of a missing tooth. Many Baltimore patients choose dental implants because they want to avoid changes in the structure of their face over time. Other solutions do not replace tooth roots, and so bone resorption is one of the consequences of those alternatives.
Maintain existing teeth. Consider dental implants if you have healthy teeth surrounding the tooth you want to replace. Bridges and partial dentures require either cutting down nearby teeth, or attaching false teeth to them, which can compromise their long-term health.
Why Quality Matters with Dental Implants
As professionals with decades of experience placing dental implants, we know that the caliber of our medical components matters. Lower-quality implants may attract bottom-dollar shoppers, but proper oral surgery and components mean less likelihood of problems in the future.
That's why The Maryland Center in Baltimore uses only the highest quality implant system. These dental implants have a high success rate because the company tests its system extensively before taking its products to market. This reduces risk and allows our patients to get the most from their investment.
If you are missing one or more teeth, have a damaged tooth, or want to address significant tooth decay, you may be a good candidate for the dental implants we offer. Learn more about dental implant treatment by scheduling an initial consultation.
Contact your local office of The Maryland Center today.